Rainbow Mountain Gold Project
Description and Location of the Rainbow Mountain Gold Project
The Rainbow Mountain gold project consists of 81 unpatented lode claims totaling approximately 1,620 contiguous acres, located approximately 23 km southeast of Fallon, in the state of Nevada. Access to the project area is by paved highway, followed by a short stretch of gravel road.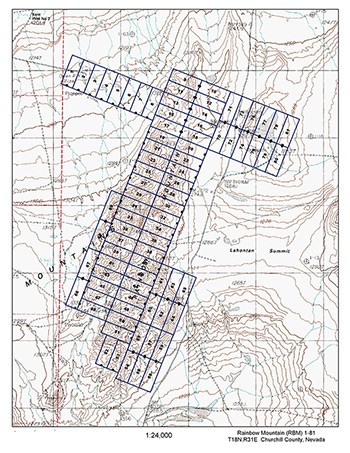 Click to zoom image.
Geology of the Rainbow Mountain Gold Project
The claim area roughly encompasses nearly the full extent of Rainbow Mountain, and specifically a prominent zone of northeast-striking faults which transect the central part of Rainbow Mountain. This complex fault zone involves three discrete Tertiary volcanic units comprised of basalt, dacite, and olivine basalt. Individual fault traces are well exposed locally and are often coincident with the contacts between the individual lithologic units. Many of the fault traces exhibit prominent fault breccia and hydrothermal breccia, and surface samples of this material returned anomalous gold and silver values up to 0.807 ppm and 1.6 ppm, respectively.
Based on observations recorded during field reconnaissance, individual hydrothermal veins along the faulted contacts range in thickness up to 1.5 m, with associated strike lengths of up to 1.7 km. Patriot postulates that this locally intense faulting, in conjunction with the associated anomalous assay values, is suggestive of a potential epithermal vein system within the footwall of the greater Rainbow Fault zone.
| | |
| --- | --- |
| | |
| click to enlarge | |
Located Within The Walker Lane